May 14, 2013 - 
www.BasketballWorld24.com
Kobe Bryant posted a photo on his Instagram and Twitter account.  It has been month since he successfully underwent surgery to repair his achilles tendon. Pretty graphic huh?
May 6, 2013 - 
Kobe Bryant is now able to apply some pressure on his surgically repaired achilles tendon. Bryant is a tireless worker and will do whatever it takes to get back on the court.  This play was one of my favorites -- Kobe dunked over the entire Nets squad.  The demoralization clearly affected them and the Nets got bounced out of the playoffs by a decimated No-Rose Bulls Team.
May 4, 2013 
Kobe Bryant obviously dissatisfied with his parents behavior tweets:
When u give Give GIVE and they take Take TAKE at wat point do u draw a line in the sand? #hurtbeyondmeasure #gavemenowarning #love?
— Kobe Bryant (@kobebryant) May 4, 2013
May 3, 2013 
Kobe Bryant takes his mother to court. You can read the entire story at: http://www.rantsports.com/nba/2013/05/03/kobe-bryants-legal-battle-with-mother/
April 28, 2013 
Kobe Bryant emerges from locker room after Dwight Howard is ejected in the 3rd quarter of Game 4 against the San Antonio Spurs.  Howard may have played his last Lakers' game.  Bryant reminded Laker Nation -- you can count on the Black Mamba to be there in 
end.  He was welcomed by a loud ovation from the Staple Center crowd.
April 23, 2013 
Kobe Bryant has cast removed today.  On his Facebook he says, "I have zero swelling and virtually no pain."
 (@kobebryant/Twitter)
April 22, 2013
Kobe vows not to tweet during game 2 of the Los Angeles Lakers and San Antonio Spurs playoff series.  Bryant's tweets caused quite a media stir during the post-game interviews with head coach Mike D'Antoni.
"Its great to have that commentary, " D'Antoni said rather sarcastically, while he rolled his eyes. Then he proceeded to call Kobe a "fan."
Stephen A. Smith, ESPN First Take Co-Host, called for a public apology from D'Antoni, but none was given.
Bryant apparently took offense to D'Antoni's comments and tweeted "A fan?? lol #microphonetalk," and later made it clear that he did not want to be a distraction for the Lakers. Poor Kobe, #boredmamba.
April 20, 2013
Kobe Bryant treats his teammates with brand new laptops for making the playoffs.
Thanks for the laptop @kobebryant ! On our way to San Antonio. twitter.com/SteveBlake5/st…
— Steve Blake (@SteveBlake5) April 20, 2013
April 14, 2013
Kobe Bryant has successful surgery to repair his right achilles tendon.  Bryant was operated on by Dr. Neal ElAttrache and Dr. Stephen Lombardo of the Kerlan Jobe Orthopaedic Group, and will be sidelined for at least six to nine months.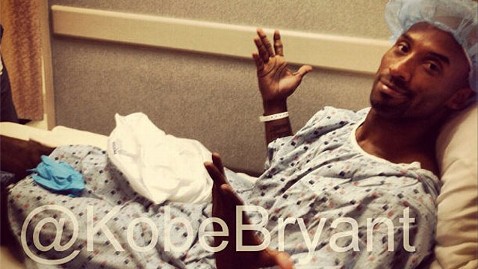 (@kobebryant/Twitter)