June 21, 2013 -
www.BasketballWorld24.com
Kobe Bryant post on his Instagram account a video of him walking on his repaired achilles tendon. These are his first steps without the walking boot. Bryant continues to use social media to keep his fans in the loop. Bryant consulted with former Los Angeles Galaxy MLS star, David Beckham, who also tore his achilles late in his career. You can read this latest article by clicking here:
June 11, 2013
Kobe Bryant reached a settlement with the New Jersey Auction, so no court time for the injured star. Bryan't parents issued an apology and have expressed since remorse and regret. Only six of his collectible items will be up for sale, as opposed to the 70 items that were reportedly going up for the July auction.
May 19, 2013 -
Bryant has been very active on his Twitter, Facebook and Instragram accounts and now the NBA has nominated him for a few categories in the second annual Social Media Awards. Read the rest of the story below:
http://www.rantsports.com/nba/2013/05/20/los-angeles-lakers-kobe-bryant-nominated-for-nba-social-awards/
May 17, 2013
In Phil Jackson's upcoming book Eleven Rings: Soul of Success sparked an interesting debate about who's better: Michael Jordan or Kobe Bryant. I'm a Mamba fan, but no one comes close to MJ. Kobe also tweeted:
The comparisons are #apples2oranges Wonder what the perception would be if M played wit @shaq instead #differentroles #differentcareerpaths
— Kobe Bryant (@kobebryant) May 17, 2013
You can read the rest of the story at:
http://www.rantsports.com/nba/2013/05/20/kobe-bryant-comparison-to-michael-jordan-apples-to-oranges/
May 14, 2013
Kobe Bryant posted a photo on his Instagram and Twitter account. It has been month since he successfully underwent surgery to repair his achilles tendon. Pretty graphic huh?
May 6, 2013 -
Kobe Bryant is now able to apply some pressure on his surgically repaired achilles tendon. Bryant is a tireless worker and will do whatever it takes to get back on the court. This play was one of my favorites -- Kobe dunked over the entire Nets squad. The demoralization clearly affected them and the Nets got bounced out of the playoffs by a decimated No-Rose Bulls Team.
May 4, 2013
Kobe Bryant obviously dissatisfied with his parents behavior tweets:
When u give Give GIVE and they take Take TAKE at wat point do u draw a line in the sand? #hurtbeyondmeasure #gavemenowarning #love?
— Kobe Bryant (@kobebryant) May 4, 2013
May 3, 2013
Kobe Bryant takes his mother to court. You can read the entire story at: http://www.rantsports.com/nba/2013/05/03/kobe-bryants-legal-battle-with-mother/
April 28, 2013
Kobe Bryant emerges from locker room after Dwight Howard is ejected in the 3rd quarter of Game 4 against the San Antonio Spurs. Howard may have played his last Lakers' game. Bryant reminded Laker Nation -- you can count on the Black Mamba to be there in
end. He was welcomed by a loud ovation from the Staple Center crowd.
April 23, 2013
Kobe Bryant has cast removed today. On his Facebook he says, "I have zero swelling and virtually no pain."
(@kobebryant/Twitter)
April 22, 2013
Kobe vows not to tweet during game 2 of the Los Angeles Lakers and San Antonio Spurs playoff series. Bryant's tweets caused quite a media stir during the post-game interviews with head coach Mike D'Antoni.
"Its great to have that commentary, " D'Antoni said rather sarcastically, while he rolled his eyes. Then he proceeded to call Kobe a "fan."
Stephen A. Smith, ESPN First Take Co-Host, called for a public apology from D'Antoni, but none was given.
Bryant apparently took offense to D'Antoni's comments and tweeted "A fan?? lol #microphonetalk," and later made it clear that he did not want to be a distraction for the Lakers. Poor Kobe, #boredmamba.
April 20, 2013
Kobe Bryant treats his teammates with brand new laptops for making the playoffs.
Thanks for the laptop @kobebryant ! On our way to San Antonio. twitter.com/SteveBlake5/st…
— Steve Blake (@SteveBlake5) April 20, 2013
April 14, 2013
Kobe Bryant has successful surgery to repair his right achilles tendon. Bryant was operated on by Dr. Neal ElAttrache and Dr. Stephen Lombardo of the Kerlan Jobe Orthopaedic Group, and will be sidelined for at least six to nine months.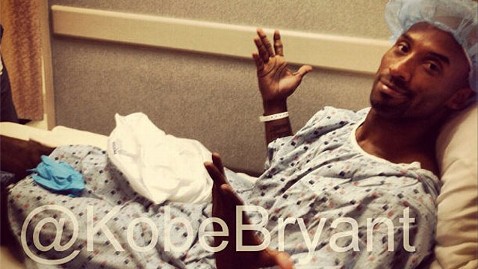 (@kobebryant/Twitter)

April 13, 2013
Kobe Bryant delivers this message at 3:30 am on Saturday, a day after suffering the achilles tendon injury. Bryant, obviously frustrated, gives us a personal account of his feelings and emotions:
This is such BS! All the training and sacrifice just flew out the window with one step that I've done millions of times! The frustration is unbearable. The anger is rage. Why the hell did this happen ?!? Makes no damn sense. Now I'm supposed to come back from this and be the same player Or better at 35?!? How in the world am I supposed to do that??
I have NO CLUE. Do I have the consistent will to overcome this thing? Maybe I should break out the rocking chair and reminisce on the career that
was. Maybe this is how my book ends. Maybe Father Time has defeated me...Then again maybe not! It's 3:30am, my foot feels like dead weight, my head is spinning from the pain meds and I'm wide awake.
Forgive my Venting but what's the purpose of social media if I won't bring it to you Real No Image?? Feels good to vent, let it out. To feel as if THIS is the WORST thing EVER! Because After ALL the venting, a real perspective sets in. There are far greater issues/challenges in the world then a torn achilles.
Stop feeling sorry for yourself, find the silver lining and get to work with the same belief, same drive and same conviction as ever.
One day, the beginning of a new career journey will commence. Today is NOT that day.
"If you see me in a fight with a bear, prey for the bear". Ive always loved that quote. Thats "mamba mentality" we don't quit, we don't cower, we don't run. We endure and conquer.
I know it's a long post but I'm Facebook Venting LOL. Maybe now I can actually get some sleep and be excited for surgery tomorrow. First step of a new challenge. Guess I will be Coach Vino the rest of this season. I have faith in my teammates. They will come thru.
Thank you for all your prayers and support. Much Love Always.
Mamba Out
April 12, 2013
Kobe Bryant injures his Achilles Tendon in the fourth quarter of the Lakers' 118-116 victory over the Golden State Warriors on Friday night.
"I've made a move that I have made million times, and it just popped," Bryant said.
Bryant trying to fight back his tears and anguish during the post-game interview, vows to return:
Twitter Reaction from NBA players and the world:
Damn man i feel bad for @kobebryant . If there's anybody and i mean anybody who can come back from that injury it would be him! Best wishes!
— LeBron James (@KingJames) April 13, 2013
Thoughts & prayers go out to the big homey #Kobe.. Shame they ran him into the ground.. #Damn
— Matt Barnes (@Matt_Barnes22) April 13, 2013
Prayers up for my bro @kobebryant get well soon fam
— Andre Iguodala (@andre) April 13, 2013
It's safe to say that hoops fans around the world are thinking about Kobe Bryant right now. We wish you a speedy recovery, Mamba. #respect
— SportsCenter (@SportsCenter) April 13, 2013
Truly a sad night for the NBA and all their fans. The Great Kobe Bryant has fallen.
Trending on Twitter: #prayforkobe
Updated by: Derrick N. Ellington
Follow @PrinceEllington